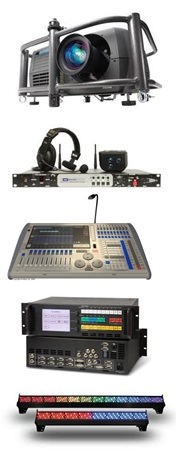 We stock the latest Audio Visual equipment and the best, most reliable brands. You benefit from flexible hire or on-site support options, fast UK delivery and up to 24/7 technical support.
Depending on your requirements, AV equipment can be collected from our offices, delivered to your premises, or directly to the venue. If required, a technician will set up the system to your specification and provide a short demo leaving you in control, or stay with you for the duration of your event.
All our kit is rigorously tested prior to dispatch to ensure safe, flawless operation. We have an extensive inventory, the main categories of which are:
LED indoor and outdoor lighting solutions, moving lights, control desks and dimmers.
Plasma and LCD screens from 10" to 103", LCD and LED video walls.
Digital video cameras, tripods and accessories. Professional DVD players, vision mixers and monitors.
Bespoke and stock stage sets, poster boards, staging, furniture, lecterns and flip-chart stands.
PA systems, mixing consoles, wired and radio mics, recording and playback equipment.
Laptops, desktops, laser printers, photocopiers, wireless routers, conference phones, 2-way radios, video conferencing systems, and keypad voting.
DLP & LCD Projectors, a wide range of front and rear projection screens, seamless switchers, wireless cue systems and a wide selection of signal distribution.
Generators and power distribution for indoor and outdoor events.
Electric guitars, bass guitars, drum kits, keyboards and amplifiers.