Cambridgeshire based Absolute Audio Visual is on a mission to grow.
The company, which employs 45 staff, has targeted significant growth during 2020 across all three of its business divisions:
AV Hire
AV Sales & Installation
Technical Event Production
To help them meet targets Absolute has recruited the services of two experienced business growth professionals to work alongside directors Alex Parmee and Jon Foster.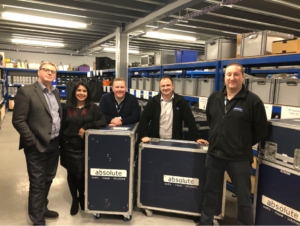 Erica Pew joins the business development team to lead on opportunities within the London venue market and to explore event production partnerships with event management and creative agencies. Erica has experience in staging events all around the world and will be looking to introduce her considerable network to the full range of technical event services offered by Absolute.
Erica commented "Obviously we'll be targeting business events and conferences, but I'm keen to also showcase Absolute's production capabilities across a variety of high-profile event formats such as award ceremonies, brand launches, hospitality events and charity balls."
Chris Watts has over 20 years' experience in providing growth and development support across many different industry sectors, including working with B2B and B2C blue chip companies. Chris will priorities the AV hire and AV installation market within East Anglia.
Chris commented "Within a 30 mile radius of Cambridge we have some of the UK's most innovative companies in medicine, science and technology. There are cutting edge research institutions plus a world class University. Each use AV in their daily operations, so it's fair to say that I'm extremely excited by the growth opportunity."
Absolute's marketing manager Andy Dec will support Erica and Chris with marcomms and promotional materials.
The team met for their business development kick off meeting this week. (See photo). So, expect a knock on your door very soon!